The obligatory blogiversary post
I started this blog a year ago and I haven't abandoned it yet.
That's no small feat. Many blogs only last a few months before the blogger decides that they have better things to do. And I can understand why. See, blogs can be a lot of work. It's not just about writing. It's about social media. Linkies. Photos. Stats. It's about being part of a community. It's about joining conversations. It's about putting yourself out there in a very public way.
I have abandoned blogs before. In both cases, it was because my blog and I were moving in different directions. In fact, I abandoned a blog just before I started this one. It's still sitting there in the blogosphere like a piece of digital archaeology, a monument to my pre-baby life. I feel bad that I just discarded it sometimes, but I knew this whole motherhood thing was going to be HUGE. It needed its own space.
So here we are.
Let's go back to the beginning.
Why did I start this blog?
Because the only way I know how to make sense of things is to write about them. It's what I've always done. I kind of can't help myself.
Because I was afraid that if I didn't devote my spare time (not that there was much of it) during maternity leave to something other than teen dramas, my brain would become pretty useless pretty quickly.
Because, like many other mums who suddenly find themselves with the overwhelming responsibility of caring for a very small and helpless person 24/7, I was desperate for something that was just for me – something that I could grow and nurture, but only when I felt like it. Unlike a baby, it would be no big deal if I forgot to check on my blog for a week. It would still be there, ready for my attention when I was willing to give it.
What have I learned?
I'm never going to be a professional blogger.
It's not about capability. It's about will.
I have no desire to work with brands, join Instagram, or put any effort into growing my Twitter following. It took me nearly a year to create a Facebook page, even though it takes about five minutes to do. I don't get Pinterest. I have no posting schedule. I know a lot about SEO but rarely use that knowledge.
I'm not really doing anything 'right', other than writing the way I want about the things I want to write about.
It pays to be social.
Not in the sense that interacting with people on Twitter and commenting on other people's blogs gets more people to read your stuff (though it does), but because in puts you in touch with a community of great people. People who open you up to new ways of thinking. People who make you laugh. People who remind you that you're not alone, which is really important, because motherhood can be really lonely. Babies are cute and all, but they're s*** conversationalists.
(Hello, tribesters! You can find out about our lovely tribe of hilarious, smart women here.)
Be yourself.
It's the ultimate cliché and pretty much the most obvious advice ever, but it's something people can lose sight of.
It's easy to look at 'successful' blogs and think that you need to be doing whatever they're doing. If they're doing is the kind of thing that you want to be doing, fine. But if it's not, don't force yourself to fit their mould.
Recipe posts may drive traffic to your site, but if you're not passionate about cooking, don't write them. Sponsored posts may earn you a bit of cash and some free swag, but if they're not your thing, don't do them. A peppy, upbeat tone may make you popular, but sarcasm is your thing, don't write with lots of exclamation points!!!!!
Write when you want about whatever you want. Blogging is supposed to be fun, and if you're trying too hard to be something you're not, it's going to feel like work.
What's next?
Getting more social – maybe. I've toyed with the idea of experimenting with YouTube, Instagram and Google+, but uggghhh. Being social on two platforms is hard enough.
Writing less – probably. I'm back at work now, and I'm finding that the last thing I want to do after a day in front of a computer is spend more time in front of a computer.
Writing about new topics – definitely. The Popple is a toddler now and things are happening fast. She's going to be talking soon and getting into things and generally becoming more of her own person.
I can't wait.
Plus, when she's having a major toddler meltdown in a very public place, I can make myself feel better by saying, "I'm totally going to write about this."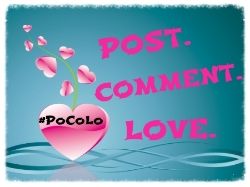 ---
---